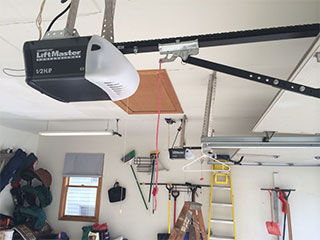 It's perfectly possible to keep your garage door in a great shape for many years simply by applying an effective maintenance routine. Our professional technicians are here to do this for you. Not only will this service keep your system in optimal operation, but it will also help catch minor issues before they become greater problems.
Checking All Components Rigorously
Each maintenance session begins with a close inspection of all of your garage door's parts. For example, we check the tracks for rust, bending and any misalignments, and inspect and the cables for fraying and small cuts. Since we are meticulous in our work, we even examine the door's weather seals. Testing is equally important. Our tests cover the springs, opener and safety sensors, to ensure they're all working correctly.
Improving Performance
We usually check the springs on a regular basis, given that the nature of their action causes them to require some adjustment every so often, not too different than the strings on a guitar. Keeping them under just the right amount of tension is crucial. Our experienced technicians are equally careful when it comes to adjusting the opener's force and travel limits. This is essential for preventing your garage door from hitting the floor or hanging slightly above it and leaving a gap which makes your house less insulated and less secure.
Solving All Kinds of Problems Right Away
It's not uncommon for us to identify various potential issues during regular checkup appointments. That is why maintenance is so important. Prevention, after all, is the root of longevity. No matter what problem gets discovered, our experts will resolve it in the shortest time possible. If any of your opener's interior parts have become too worn-out, or other components, like your remote control or safety sensors, have started to malfunction, we'll replace them. If you have a bent track or hinges, you can count on us to repair them as well. It's our goal to make your garage door completely dependable and to ensure that its performance remains as smooth and safe as possible.
Call our Garage Door Repair Farmington experts today! We're the best service team around!
In addition, we offer:
Part Replacement & Lubrication
Belt Drive Garage Door Openers
Oil Tempered Torsion Springs
New Garage Door Installation