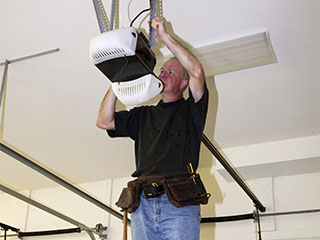 Is Your Garage Door Behaving Strangely?
Your garage door is a heavy piece of machinery, and any number of its parts can easily be worn down over the years from daily use. This grinding down or rusting of any components is what causes noticeable issues, especially without maintenance being performed regularly. If it suddenly reverses or stops in the middle of opening or closing, is extremely noisy, or shakes a lot, these are all signs that it's in need of repairs. While you may want to wait on tending to it in favor of other things, ignoring the problem can let it worsen over time, as it puts a strain on the whole system. It's best to take care of it as soon as possible instead.
Our Technicians Can Help!
Using the best tools and parts, we can get to work on finding the source of the trouble and getting it taken care of! You can trust that our professionals can handle the job, thanks to having years of experience. They've seen and fixed it all before! We can repair or replace whatever type of spring your door may have, can tend to a wide variety of opener brands, and fix rollers or cables as well. Even if the problem is a broken panel, we can easily replace it with a brand new one. It'll all be done before you know it!
Is It An Emergency?
Don't fret! Instead, just give us a call and tell us that it is. We know that these things can't always be planned in advance, sometimes your door is suddenly just stuck. We'll get out to you as quickly as possible, and set about getting it moving again, so you'll be able to get out the door and on with your day.
Don't Wait For It To Worsen!
Instead, call Garage Door Repair Farmington now, and allow us to get to work. Neither you nor your busy schedule should suffer because of a malfunctioning door, and now it doesn't have to!
We also offer:
Garage Door Troubleshooting Services
Garage Door Torsion Spring Replacement